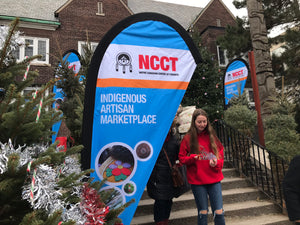 Fun Day at the Indigenous Artisan Marketplace
Last weekend I took my son Lucas to the Indigenous artisan marketplace and a holiday craft show that was held at the 
Native Canadian Centre of Toronto
(NCCT) at 16 Spadina Road.
It's an annual event that NCCT holds at their center around Christmas time to promote local Indigenous artists. It runs for three consecutive days and it's a great place to visit, if you are looking for authentic Indigenous crafts and gifts for the holiday season.
The place was absolutely packed!

You could find there authentic Indigenous crafts, like dreamcatchers, moccasins, beadwork, paintings, carvings, traditional and contemporary jewelry and much more.  
My five-year old definitely had fun discovering fun crafts and carvings, and asking vendors about things he liked. 
Bella, one of the artists, who also works at NCCT, and her son who is also an artist, showed us their dreamcatchers and explained to Lucas how they catch bad dreams in the net. He was, of course, fascinated by the magic powers of dreamcatchers. I was happy to see he was learning so much from the Indigenous artists and having fun at the show.
There was even musical instruments, like Native American Flutes hand-crafted by Bryan Towers.

We bought a couple wooden hand rattles from him and Lucas would not let go of them for the rest of the day. I thought they'd make for nice Christmas presents for his cousins, but it looks like we are keeping them now.
We've met a few artists at the show that we already know, like Joseph Sagaj, who is an amazing Native Canadian painter. Lucas talked to him like he was an old friend. 
The highlight of the day was when Zechariah James, one of the organizers of the craft show, let Lucas get on stage and help him pick and announce the winning numbers for the raffle tickets. He loved the spotlight! 

Lucas told me later that he was nervous at first, but then thought he needs to be serious, as its a serious job. So he tried hard to say the numbers correctly. :)
 
Zechariah even let Lucas pick a gift at the end for doing such a great job.
That definitely made his day! :)
  
I feel like we'll be talking about NCCT's Indigenous Artisan show for a while now. Lucas is already discussing going there again next year. I agree, we had such a fun time there this year. We are definitely coming back next year.
Author: Marina Korneeva
---