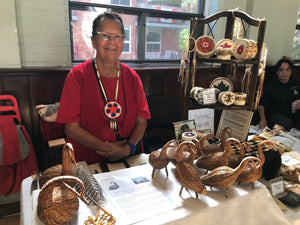 Meet Margaret, Canadian Indigenous "Craft Police"
Margaret is a well-known community member and an entrepreneur in First Nations art and crafts.
She's been selling since 1972!


Initially, she started collecting items from remote communities on the Manitoba border that could be only accessed through bush planes. Eventually, she collected so many items in her apartment that she could barely move and had to open a store to sell them.
She had that store for Indigenous art and crafts on Queen Street in Toronto for 30 years. Although she closed it down in 2010, she actively still keeps in touch with the artists and now sells their unique items, like the Tamarack Twig Goose Decoys and the Porcupine Quill boxes at art and craft shows.
She is still interested in promoting Indigenous culture and Indigenous artwork. It's been her mission from the very beginning because she knows how much hard work goes into making Indigenous art and crafts.
Also, everything she sells is made from natural materials and it's a great selling point.
Margaret is also very passionate about selling authentic Indigenous art and crafts and even calls herself the "Craft Police" because she often inspects products and tells people if the items they've purchased are authentic Indigenous items or not.
We met Margaret for the first time at
our consultation with the Indigenous artists
at NCCT Center. Full of knowledge and enthusiasm, she is an amazing story-teller.
I learned from Margaret that the 
Porcupine Quill boxes are very unique, as there are no Chinese knock offs. Nobody can recreate them and it's a technique only known by Indigenous communities that make them.

Also, she explained to me why there are so many German tourists in Canada obsessed with "Indians" and Canadian Indigenous art. Apparently, it's all because of Winnetou novels written in German by Karl May, one of the best-selling German writers of all time. 

Margaret said that people on Indigenous reserves sometimes find wandering Germans looking for "Indians" dressed in traditional outfits. Ha ha! I can only imagine the confused faces on both parties. 


I am looking forward to hearing more stories from Margaret and learning about the Native Canadian culture of which she is so proud.
Author: Marina Korneeva
---