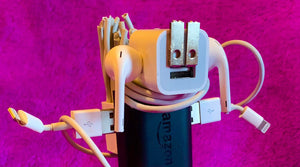 The Year of the Pandemic from an Artists' Perspective: It's Complicated
Covid has, and continues to, hit many people hard, so we wanted to check with a few of our artists to see how they are doing and what they've been working on over the last several months. 
Hayden Haynes, Antler & Stone Carver, Seneca Deer Clan (Perrysburg, New York, US)

"I created more works in 2020 than almost ever. It was the best year for me yet in terms of exposure etc., hoping to keep that momentum. I'm not sure why that really is. I think I just had a lot of ideas that came to me. And I took more chances. I put extra efforts into promoting my work online and got a lot of exposure that way. There's a lot of competition for an audience, especially since everyone's moved more virtual now with the pandemic.
I sold almost everything I made, with the exception of the 4 items in my shop. I stopped taking orders, so that I could work on some pieces that I really wanted to do.

My latest work "To and Fro in 2020" depicts how I've felt over this entire year going from home, to my day job, and vice versa. Like most people I switched to remote work for some of the time. But then as I had to physically go into work more often, I found myself feeling tangled up with my work laptop, my personal laptop, personal phone, work cell, headphones, webcams and all the chargers for each of these devices.
Upon arrival to either work or home, it was constant unloading the backpack of all these things and re-setting up my portable office over and over again. I did this daily and still do. That's why on this piece, there is a charging cord wrapped around the figures neck and around the body, almost a suffocating feeling sometimes. The top portion is obviously made of charging blocks and related cables. The legs are antler, I went with polka dot shorts just because I though it was a little funny. The bottom legs are my new design, "Zig Zag Man", which is based on how I feel about my work sometimes.
My work is more consistently zigging and zagging away from the normal Iroquois antler carving. The circular shape around the head of the figure symbolizes the sky world. I feel as artists, the gifts we have come from there. So it's best to always stay in tune with well being, so you can stay connected."
I don't think we'd be wrong to say that Hayden's latest art was heavily influenced by the pandemic. 
Joseph Sagaj, Anishnaabe Artist (Toronto, Canada)
Joseph has a polar opposite story to Hayden's. He says that he hardly produced any artwork during covid. 
He found himself doing a lot more architectural design and interior design consultations on Zoom. Why? Because schools and non-profits that he works with got Covid-related funding and because everything was transformed to doing business online.
Doing presentations on Zoom was new to him. He didn't even have a laptop before. Now he has a laptop and his technology skills got an upgrade, though he says he finds technology unpredictable... but he is learning, he says.
He makes more money from consulting than from his art. "Commissions are small, not enough to pay bills. I need to keep my head above the water. I go where the Buffalo goes", Joseph jokes.
Luckily, Joseph still has a few original paintings for sale and he still welcomes commissioned work. He also offers prints of some of his artwork, though he struggled finding a printing place to print a few of his prints recently. His regular printing house was closed, same as many other businesses. Joseph even had to call his customer and try offering her a refund for one of those prints, but the customer said that she'd prefer to wait for him to find the right place to print his artwork. He is still not sure if he'll find a new printing house soon or will have to offer a refund to her anyway.



Natalie Sweeney, Native Canadian Clothing & Jewelry Designer (Toronto, Canada)
"I have been working a lot more now than I did before. I have a lot more free time. I've been teaching classes via Zoom and making kits for online workshops, as well as videos for the workshops. 
I have a lot of different projects on the go, mittens, moccasins, beadwork etc...
I've also been taking online classes, for medallion making, moccasins, mittens, I'm in the midst of learning how to make mukluks. I also joined beading circles just to pass the time.
In the beginning it was great. I loved how much time I had, but then it got to the point where I didn't want to see my beadwork anymore, I left my house and went to stay with my mom in Barrie.
Not being able to socialize and see my friends and family really had me depressed/stressed. I was an emotional wreck for a good while, then a friend of mine told me why not get back to my crafting? When I picked it back up again it was hard to get motivated, then the next step was where to start? Now that I'm back at it I feel so much better, less stress, not too much over thinking. I am so blessed to have my crafts. 


Another blessing is having my eldest daughter here to help me, so I'm no longer over whelmed with orders".
Below are just
a few creations
that Natalie shared with us recently. It will take some time to list all these items for sale.
We talked to a few other artists too. Some said they had very little sales, which resulted in a situation of having no money to buy art supplies and even less artwork for sale, so they had to move-in with a roommate or move to a smaller place. Many artists lost considerable income due to the closure of art galleries, craft markets and powwows, where a lot of their artwork was sold. Everyone tried to adapt and try new things though.
The year of pandemic changed a lot for Indigenous artists. In a word, the year was "Complicated".
Author: Marina Korneeva
---